Report about the 2nd European BA-DAY in May 2019
On Friday, May 17th, 2019, the 2nd BA-DAY (www.ba-day.com) took place again in Frankfurt-Eschborn in the Mercure Hotel Helfmann Park. The 5th floor with its eights rooms and a large terrace with "Mainhattan view" has been exclusively booked by the conference host masVenta Business GmbH. More than 140 experts from the area of Business Analysis and affiliated disciplines met for a focused knowledge exchange and excellent networking.
The day before, Thurday, May 16th, six halfday workshops with actual themes were conducted by well-known professionals like Adrian Reed, Alumdena Rodriguez Pardo, Kevin Brennan and many more. Klick on the picture below to download the full program brochure. More than 70 participants took part and provided great feedback, many thanks for this successful day!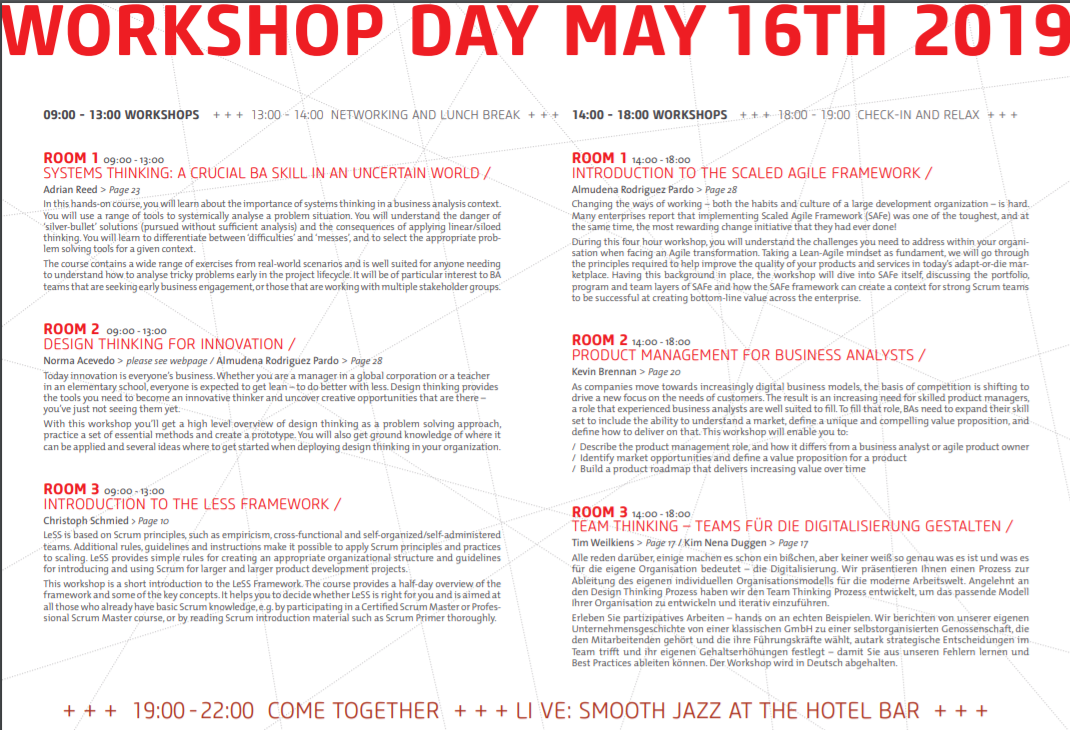 The full program with all presentation abstracts can still be found online www.ba-day.com (later, past BA-DAYs under menu Archive). The slide decks of the presentations are protected and for attendees only and can be found under www.ba-day.com/past.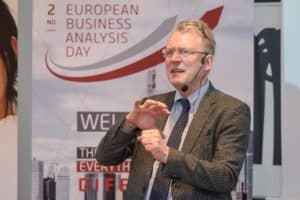 The conference on Friday morning was opened by Sabine Ostlender and Rainer Wendt, both managing directors of the hosting company masVenta Business GmbH from Germany. Using the motto of the conference "The Digital Change – Everything Remains Different" he introduced the keynote speaker Prof. Dr. Christoph Meinel, CEO of the Hasso Plattner Institute (HPI) in Potsdam. Dr. Meinel said that so far, only a small fraction of our society is ready for such a paradigmatic shift which comes with the Digital Change However, the future does not wait. Our society has to get ready for up-to-date digital infrastructure, a data-driven economy and new administrative means to shape adequate regulation for innovation. Most and for all, every single citizen needs to be equipped with the general nowledge such transformation requires. After the frist break many interesting presentations by famous Business Analysts and Agile Experts followed, on the photos below are Victoria Cupet, Adrian Reed, Boris Gloger, Kevin Brennan, Howard Podeswa and Fernando Sánchez Márquez.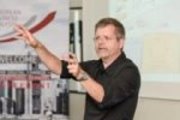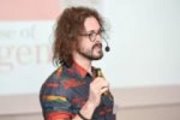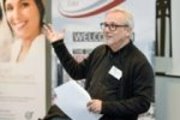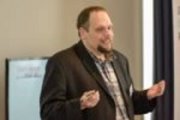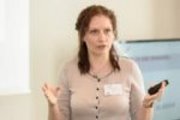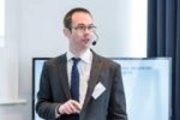 In the extra long lunch break the attendees from more than 20 countries had lots of opportunities to discuss their BA approaches. People from the Netherlands, Belgium, the UK, Denmark, Estonia, Russia, Slovenia, Switzerland and many more countries had a great time to create new Business relationships.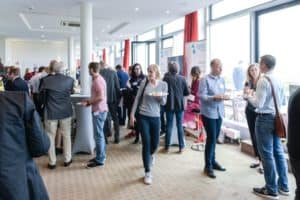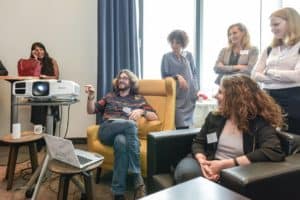 The large terrace with the stunning view on the Frankfurt skyline (aka "Mainhattan") did provide even better opportunities to talk and to introduce to each other. In a separated room special desserts could be earned by spontaneous story telling, lots of fun with Fernando Sanchez among women!
In his closing keynote, Fernando gave some insights in the challenges with new Digital Customers at the emerging Spanish fashion company Desigual. He demonstrated interesting effects on sales and revenues by applying agile holistic techniques.
To summarize, everybody got his or her take-aways from the 2nd BA-DAY, everybody said that the invest in this conference paid off and most of the people are considering to come again next year. The 3rd BA-DAY will be May 14th/15th 2020, same place, same concept.
Sincerely
Rainer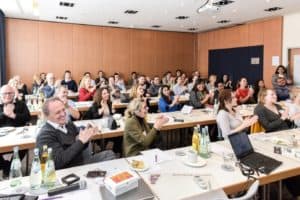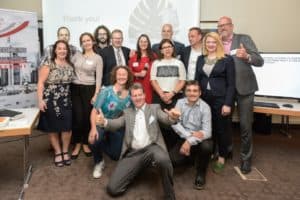 More photos and videos under https://ba-day.com/index.php/ba-day-2019/
This Article was originally posted on May, 24th 2019 on LinkedIn: https://www.linkedin.com/feed/update/urn:li:activity:6537614799554007040